BMW Apps: A Coup in Connectivity
At BMW, the line between electrifying performance and high-performance electronics is blurring. Starting with models produced in March 2011, BMW owners will be the very first to experience a unique connection between their BMW and their iPhone®.
BMW Apps* is a unique interface that allows an iPhone iOS 4.x to play apps specially modified for BMW. Imagine listening to Web Radio while you drive - or accessing your Twitter® or Facebook® accounts in the Display monitor. Additional apps will be quickly developed and rolled out.
The Web Radio function lets you search for stations by name, location, or genre, as well as store and delete favorites, find similar stations, and change audio quality. With the iPod® Out function, you can select music tracks, compile playlists and use Genius (if enabled) to find similar sounds - anything your iPod can do, your BMW can, too. And when your vehicle is stopped, you can even watch videos and podcasts stored on your iPhone Media Player.
BMW Apps is part of BMW ConnectedDrive - just one more way BMW keeps you in touch with your world whenever you're behind the wheel.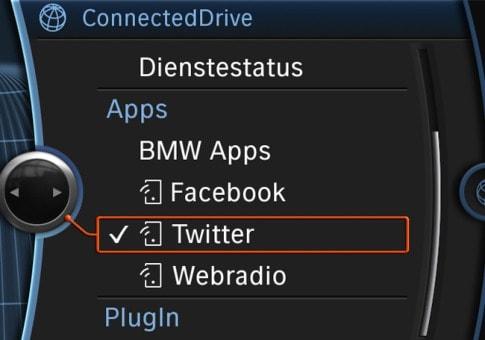 *BMW Apps is an optional feature of BMW ConnectedDrive. It requires BMW Assist® and BMW onboard Navigation system; for iPod out functionality it requires optional Smartphone Integration.