BMW ASSIST™ SAFETY & CONVENIENCE SERVICES
Because life is in motion.
Overview
BMW Assist provides you with a suite of safety, security and convenience services that add peace of mind, confidence and convenience throughout your day.
BMW Assist intelligently integrates the driver, the vehicle and the environment as part of BMW's global ConnectedDrive initiative. Combining GPS location technology with hands-free wireless communication BMW Assist connects you to a response specialist for help with almost everything, from an emergency situation to directions and traffic information. On suitably equipped 2007 and later models, the BMW Assist Safety Plan is part of Ultimate Service, included at no cost for 4 years from your BMW's in-service date. Your BMW Assist system also includes Bluetooth® hands-free calling capability with speech recognition.
Safety Plan
At BMW, the safety and security of the driver is always a top priority. BMW Assist™ provides safety services that connect you with our BMW Assist Response Center, any time, day or night. To initiate the service, just push the
SOS button from within your vehicle. After a serious accident, a call is initiated automatically. The system then transmits your location and other vehicle data information to a response specialist who will help resolve your situation. BMW Assist also includes stolen vehicle recovery services, which could reduce your comprehensive insurance premium while increasing your peace of mind. And if you ever get locked out, door unlock service can be requested with just a toll-free call.
The newest BMW Assist service is called MyInfo, allowing you to send business listings and street addresses found in Google Maps directly to your BMW.
BMW Assist-equipped 2007 and later models can receive the BMW Assist Safety Plan for 4 years at no additional cost from your BMW's in-service date as part of BMW Ultimate Service™.
Services include:
Automatic Collision Notification
Emergency Request (SOS)
Enhanced Roadside Assistance
MyInfo
Stolen Vehicle Recovery
Door Unlock
TeleService
Customer Relations
In order to receive BMW Assist services, a subscriber agreement must be completed at your local BMW center and transferred to the BMW Assist Response Center. GPS and underlying wireless services must be available and functioning; vehicle ignition must be turned on (except for Door Unlock and Stolen Vehicle Recovery), battery charged and connected and vehicle's electrical system operational; services may be limited to certain geographic areas. Call toll-free 1-888-333-6118 or visit your BMW center for additional program details. Services are subject to the terms and conditions of your subscriber agreement; which can be reviewed here. The BMW Assist and BMW Roadside Assistance programs are not warranties and do not affect your rights under the BMW New Vehicle Limited Warranty.
Hands-free Calling
Convenience through technology.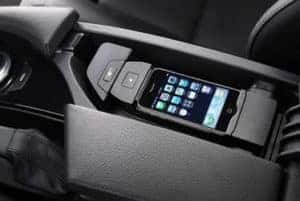 With Bluetooth® wireless technology* you can place and answer calls hands-free without any cords or cables getting in your way. You can browse your phonebook contacts and dial numbers through your BMW multi-function steering wheel, radio or control display, and speech recognition system; letting you keep your hands on the wheel. A microphone transmits your conversation, while you listen through your sound system, with entertainment muted during calls.
All you need is a BMW-compatible Bluetooth mobile phone. For more information, a list of compatible mobile phones, and available docking cradles which both recharge your phone and connect it to your BMW's external antenna for improved reception, visit your BMW center or www.bmwusa.com/bluetooth
*Available on all 2006 and later 7 Series and all other 2005 and later BMW Assist-equipped models produced 10/04 and later.
How it Works
Advanced technology at your fingertips.
BMW Assist uses advanced technology to bring the focused attention of a response specialist to your aid whenever needed. Combining an integrated wireless phone for communication and a Global Positioning System (GPS) satellite receiver to determine your vehicle's location, the BMW Assist system conveniently helps to deliver both occupant security and peace of mind.