BMW PERFORMANCE DRIVING SCHOOL IN GREENWOOD, IN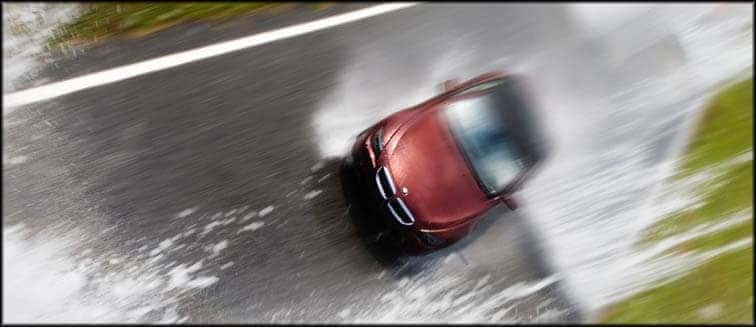 Performance Driving (per-for-mance dri-ving; verb, transitive) – the act of extracting the highest level of performance from an automobile by its driver under any circumstances.
Synonyms: fun, exhilarating, challenging, dynamic
At BMW, we possess such a profound belief in high-performance driving – and the driver's right to experience every heart-pounding moment of it – that we invested $12 million to create the BMW Performance Center.
Home of the BMW Performance Driving School Delivery Center and BMW Motorcycle Rider Training, the center and its staff equip attendees with the skills necessary to enjoy the ultimate driving experience time and time again. Thanks to our fleet of the latest BMW models, a team of BMW Driver Training Instructors and a challenging mix of low- and high-speed driving exercises, we'll help you become a confident, safe and enthusiastic driver.
Whether you've been driving for decades, have just received your learner's permit, or are just out to push a vehicle to its limits, our different driving programs will help make you a safer, stronger and more confident driver. And while BMW ownership is not required, a passion for spirited driving is.
---
Welcome to BMW driving heaven.
Nestled at the base of the Blue Ridge Mountains between Greenville and Spartanburg, South Carolina, the BMW Performance Driving School lets you take your driving skills to the Master's level. Your campus: a versatile driving course – over two miles of asphalt that can be configured in a multitude of challenging ways. Every scenario is experienced under the guidance of professional driving instructors, behind the wheel of a new BMW.
Classes are divided into multiple programs. Choose the One-Day School and spend the entire day learning valuable driving techniques. The Two-Day School offers the same thrilling experience, with twice the time behind the wheel. For those interested in performance, the M Schools (One-Day, Two-Day and Advanced programs) let you hone your skills on a racetrack. You can even enroll your teen drivers in a One- or Two-Day Teen School, geared just for them. There's something for everyone!
The BMW Performance Driving School is about control. It's about pushing a BMW to its limits – and yours. So when faced with everyday driving hazards, you will be ready. You will experience and master these challenges in a controlled environment. And emerge as a joyful, more confident driver.
---
What to expect behind the wheel.

Real Roads: The course can be configured in a multitude of ways, in a series of interconnecting straightaways, loops and corners. This allows drivers to see how a vehicle handles – and learn how to control a vehicle – under varying driving situations and conditions.
Water Wall: From the instructor's tower, the BMW Driving School staff can press a button and cut a two-lane road in half with a wall of water. Drivers must make an instant decision: what to do? The aim is to teach proper accident-avoidance techniques.
Skid Pad: Varying surfaces represent real-world scenarios, like slippery "black ice," allowing drivers to experience the effects of oversteer and understeer, as well as the benefits of traction control, Dynamic Stability Control, and anti-lock brakes.
Other Roads Course: Spiral Mountain, deep water crossings, and steep inclines teach drivers the safest approaches to negotiating difficult terrain and obstacles, while highlighting the special abilities of a BMW Sports Activity Vehicle®.
---
Additional Performance School experiences.

Corporate Events: Our corporate programs encourage teamwork, boost morale, increase confidence, and bond colleagues more closely. How? When you bring a group together with BMW high-performance cars, you can expect to leave with a high-performance team that will make the most of the lessons they learned – long after returning to work. Do your employees have a problem communicating? Are you looking to foster more creativity among them? We'll divide your group into competing teams to face off in ways that demand fresh ideas, mutual respect – and, of course, safety belts. From half-day to multi-day programs, all our offerings combine successful team-building with an incredible rush of adrenaline.
BMW Performance Center Delivery Experience: If you're ordering a new BMW through your BMW or BMW SAV® center, add to the excitement by taking delivery at the BMW Performance Center. BMW makes it a special occasion you'll always remember!
Call 1-888-345-4BMW to reserve your spot in the BMW Performance Driving School. It's the most enjoyable way to learn driving skills you'll use every day!
---
BMW PERFORMANCE DRIVING SCHOOL HOURS
Monday
Tuesday
Wednesday
Thursday
Friday
Saturday
Sunday
12:00 pm – 6:00 pm
10:00 am – 4:00 pm
12:00 pm – 6:00 pm
10:00 am – 4:00 pm
12:00 pm – 6:00 pm
10:00 am – 4:00 pm
Closed